Profile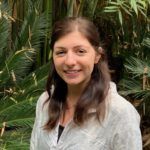 Anna Gardner
Curriculum Vitae
Education:

I went to many different first and middle schools. After college, I completed my Biosciences degree at the University of Birmingham. I worked abroad for a few years and then came back to do my PhD too 🙂

Qualifications:

GCSEs (12 A*-C grades) A levels (A* in Psychology, A* in Environmental Science, A in Biology) First class degree in Biological sciences (Zoology). Now completing my PhD in Biological Sciences.

Work History:

Research assistant in Peru (studying potatoes). Research assistant in Florida (studying turtles). Research leader/coordinator in Greece for marine wildlife (Dolphins and Turtles) and land wildlife (Chameleons and Jackals). Field technician: University of Birmingham.

Current Job:

PhD student

Employer:

University of Birmingham

Birmingham Institute of Forest Research
Favourite thing to do in my job: Climbing trees and watching birds!

About Me

I'm Anna, a wildlife loving scientist that loves to explore.

Read more

Hi everybody,

My name is Anna, I live in Worcestershire and I spend much of my free time travelling, hiking and watching bees ( I have my own bee hive!).

I have studied all creatures great and small across the world in my career. Yet, I have recently discovered how amazing trees are. I now spend most of my days at the tops of really old trees studying their leaves. Luckily, I have no fear of heights.

I try to save my money up so I can travel a lot. Most people like beach holidays or disney world (I do love disney too!), but I particularly like visiting the oldest trees in the world!

The oldest tree I have ever visited is a 6000 year old Boabab tree but I have also visited Giant Sequoia trees in California and ancient Gingko trees in China.

Other things I like doing: Eating, diving, riding my bike, skydiving and trying new things 😀

My Work

I'm a tree scientist in a very ancient woodland. I study how climate change might affect our forests and how we can help!

Read more

I work in an ancient woodland for the Birmingham Institute of Forest Research as a researcher of trees.

Here, I am studying how climate change (increased carbon dioxide) may change the behaviour of oak leaves. Trees look like they stand still all day BUT they are very very busy plants. The leaves of trees have lots of important roles including making food (carbon) for the tree, which they use to make them grow bigger.

My job is to understand how the leaves might change their appearance or behaviour in the future.

Will the leaves grow bigger or smaller?
Will there be more or less leaves on each tree?
Will the leaves change shape?
Will the leaves make more or less food for the tree?

Oak trees are very important trees for us as they help in the water cycle, nutrient cycles and carbon cycles. That is why its so important for us to know what will happen in the future.

I usually spend sunrise to sunset in the tree and have to wear a hard hat (its dangerous stuff dangling in the tree). Here are some pictures of me at work!

My Typical Day

Early mornings and late nights in the tree tops.

Read more

My typical day requires me to get up before the sun rises!

I then warm up my science equipment and wriggle into a climbing harness – all ready for tree climbing in the forest.

Here, I spend the entire day in the tree tops taking measurements on the leaves.

The machine that is strapped to me measures how the leaves breathe (like how we breathe in and out). It measures how much food the leaves are making and how much water he tree needs.

My machine can see if the leaves are happy or if they need more water or sunlight. My experiment will be able to tell us if the trees will grow bigger in the future or if they might need some human help.

What I'd do with the prize money

Inspiring students using outdoor practical nature classrooms! I will be visiting schools to teach nature/biology activites (outside) and the money will buy science equipment for my visits! Take a look below :)

Read more

Hello!

I have a very specific plan for the prize money that I have thought about for a long time. In fact, this was how I got interested in my job now, when I was at school.

I would like to set up a series of practical and outdoor workshops about plants, trees, birds and insects.

The workshops will be called: Birds, bees and all things green.

These practicals will be aimed to inspire you guys to enjoy the outdoors as much as I do. It will connect you to your green environment and include how to care for garden wildlife.

The workshops will be for an hour after school or in the school holidays:

They will be outside either on the school grounds or organised at a local park.

There are four sessions.

Part 1: Flowers

A selection of wild flowers will be bunched into vases on the students tables. The students will be provided paint to draw out as many flowers as they like. We will then label the flowers with their different parts from the stems up to the petals.

The students will be given a flower ID sheet and can work in teams to find all the flowers on the school ground/ park that are on the list. Together we will learn the names of flowers, what their seeds look like and their importance to bugs.

Lastly we will pot up our own seeds to take home. You will have to choice of flowers or vegetables that you can grow at home!

Part 2: Trees

First we will learn some fun facts about trees and look at trees in all the other countries. I will put leaves from 5 different UK trees on the tables. We will draw around them and learn their names. Next we will get into groups and I will give everybody Tree/leaf ID sheets. Here we will go around the playground/park and find out all the different trees on the list.

We will also draw our favourite leaves at the end and write on it our names. I will have a huge trunk (made of paper) where we will attach the leaves onto it. This can be displayed in the school or at a local community centre.

Each student can take home a Leaf ID booklet.

Part 3: Insects (bugs)

A large set of insects set in acrylic will be on display on each of the tables. You get to look at all the varieties of bugs we have around the world. We will talk about some of their features (such as colours and shapes) and how this might help them with where they live.

We will go on a bug hunt in the nearby area using a pooter. This is a fun instrument that lets us look closely at the bugs. We will share our findings and talk through their names.

Next we will draw out some parts of the insects (e.g. butterfly wings) and explain our drawings.

Lastly we will make some bug hotels!

Students can take home an insect ID sheet and their bug hotel to put into their garden!

Part 4: Birds.

Students will learn about garden birds and get to pick one to paint. Next we will listen to some bird songs and match the bird with the song. We will all bird watch (using paper binoculars provided) and use a tick sheet with a bird ID list to see what birds we have near the school play ground/ park.

The students will be given a bird ID sheet and binoculars to go home and practise their bird watching skills.

Students can take home their very own binoculars and a bird ID sheet to do their very own bird watching!

*****The main concept of these workshops will be to encourage connecting with the green environment and helping the wildlife around us.

My Interview

How would you describe yourself in 3 words?

Brave, kind and curious

What or who inspired you to follow your career?

David Attenborough and Steve Irwin

What was your favourite subject at school?

Sport and Biology

What did you want to be after you left school?

A park ranger in Africa

Were you ever in trouble at school?

Yes, I was quite cheeky!

If you weren't doing this job, what would you choose instead?

An astrobiologist

Who is your favourite singer or band?

Taylor swift :) Huge fan!

What's your favourite food?

Deserts like apple pie and ice-cream

What is the most fun thing you've done?

A huge road trip around California. I even saw bears and otters!

If you had 3 wishes for yourself what would they be? - be honest!

1) Worry less. 2) Be happy with who I am. 3) Read minds!

Tell us a joke.

What did the shark say when he ate the clownfish? This tastes a little funny.
---
---