Profile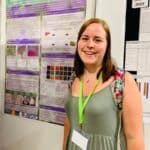 Shannah Gates
Today I was at the greenhouse sowing some medicinal plant seeds and weeding my medicinal plant garden
Curriculum Vitae
Education:

Templars Primary school, Lancing Whitestyles middle school Sir Robert Woodard Academy

Qualifications:

Maths, Biology, Chemistry, Physics, Graphic design, English language, English literature, IT, Sociology, child development

Work History:

After school I went to college then university. I then went to university in Australia. Now I am at university in London doing my PhD. I have had some summer jobs to earn money. I worked at clarks the shoe shop. I worked at a cinema. I now work as an exam invigilator and teach some laboratory classes at the university.

Current Job:

PhD student

Employer:

Royal Holloway University of London
Favourite thing to do in my job: Anything with liquid nitrogen!

About Me

I live in London and I love Disney and Musicals.

Read more

I live in London now but I am from Brighton. I have a dog, two cats and many plants. I love to go on holiday and travel. Last month I went hot air ballooning. I also love rollercoasters and theme parks. Disney land is my favourite.

My Work

I grow cultures of plant roots and use them as medicines

Read more

My work involves making immortal root cultures (flasks full of roots that keep growing like crazy and never die). I have so many flasks of roots, they just keep growing and growing! I have made them by genetically modifying roots. They are roots of medicinal plants. I am growing them like this so that I can produce and extract lots of the medicinal compounds from them.

<– these are my roots. They are called hairy root cultures because the roots grow all hairy.

Once I have the medicinal compounds from the plants I test them on human liver cells to see if they could be used as a medicine for liver disease. Here is a video of the cells treated with a green fluorescent compound. 

My Typical Day

Planning and doing experiments and writing up reports

Read more

I normally get to work at about 9am. I usually start by checking my emails and checking my diary to see what I have to do that day. I then plan and do experiments. I often have to sterilise seeds and grow them in flasks in the lab.

After I have done my experiments I have to write up what I did, to make sure I don't forget. I often have meetings with my professor to talk about the results of the experiments.

What I'd do with the prize money

I don't know yet, do you have any cool ideas?

Read more

I want to do something with schools that's exciting, like a trip somewhere or we could use the money to buy some reagents to do interesting experiments with.

My Interview

How would you describe yourself in 3 words?

Tall, geeky, silly

What or who inspired you to follow your career?

My biology teacher at school

What was your favourite subject at school?

Biology and maths

What did you want to be after you left school?

A swimming teacher

Were you ever in trouble at school?

Not really, I was good

If you weren't doing this job, what would you choose instead?

Roller coaster tester

Who is your favourite singer or band?

Little Mix

What's your favourite food?

Lasagne

What is the most fun thing you've done?

Gone to disneyland

If you had 3 wishes for yourself what would they be? - be honest!

I wish that I could be invisible, that I could fly and have lots of money

Tell us a joke.

Why do potatoes make good detectives? Because they keep their eyes peeled.
---
---